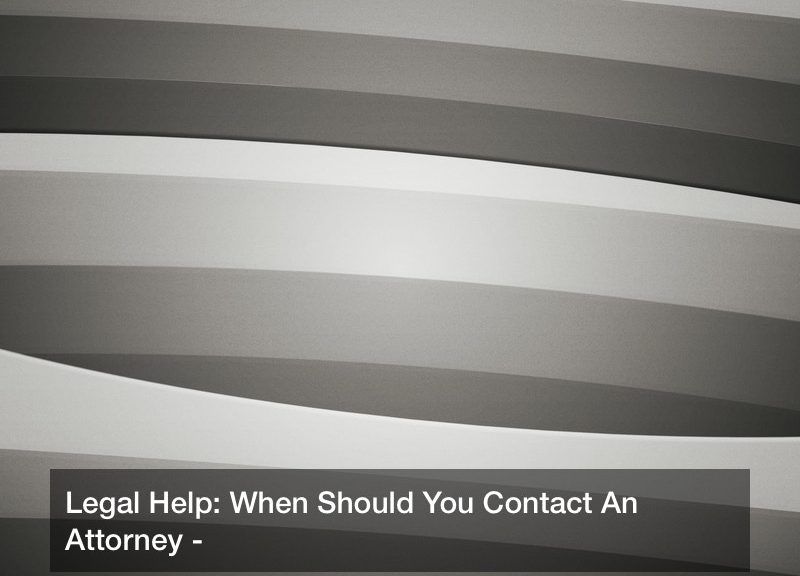 Legal Help: When Should You Contact An Attorney?
Legal Help: When Should You Contact An Attorney?
Disclaimer: The website may collect compensation for links, mentions and/or videos that are placed in the content.
Disclosure: All content is intended for general information purposes only. We are not professionals in any specialized field. Please consult an expert before making any decisions involving your health, finances, or general well being.
If you may be in legal trouble or find yourself in any circumstances with significant legal complexities, it is important to know when it is best to seek help from a professional attorney.
Lawyers help you navigate current laws, any changes to legal proceedings over the years, limitations and legal statutes, and litigation strategies. They can help identify useful evidence, records, and testimony, and help you compile and gather necessary documentation.
When is it wise to consult with one of the 1.3 million lawyers across the U.S.?
1. You're Getting A Divorce
Legal questions and gray areas can arise even in the most amicable divorces. Divorce is a messy, complicated division of legal assets. Here are some reasons to consider enlisting legal help.
You aren't up to speed on matrimonial and/or family court law. Divorce is a legal process, and the judge will proceed that way. "Lawyers who focus on areas outside family law hire a family lawyer when they're getting a divorce; they recognize that they'll be out of their depth when faced with a lawyer who practices family law exclusively," Divorce Magazine writes. With that in mind — with lawyers fully admitting that even they do not know the nuances of all areas of law — it is smart for the average person to consider doing the same. Plus, laws vary by state, i.e. New York State laws differ from Florida State laws. Save yourself the trouble of parsing divorce and family law state-by-state.
You are anxious, depressed, or stressed out. Divorce isn't easy for anyone. It is more than reasonable to feel out of sorts in the months leading up to a divorce. Ease your worries and stressors somewhat by hiring a divorce attorney to help.
You have set expectations. If you are acting as your own lawyer in a divorce, you may not know all the specifics of divorce law and New York State law. The court will do their best to understand the arguments and documents set forth, but that understanding may not be perfect. An experienced lawyer can ascertain that everyone is on the same page.
You have children. Of course, parents want the best for their children. It can be difficult to know what is best for children even at the best of times. During a divorce, making these determinations can be especially challenging. Work with a divorce lawyer to come to a reasonable arrangement about childcare.
2. You Get An Outrageous Bill
If you receive a medical bill or home repair bill after filing a claim and costs far exceed what you expect, it may be time to contact a lawyer or attorney.
Unfortunately, insurance companies are out to make money — not payout as generously as possible. For that reason, they may try to cut corners. If they can save money or (from their point of view) reasonably refute a claim, they're going to do it. The good news is that you have legal recourse.
When it comes to insurance claims, New York State law can be dense and murky. In many cases, insurance companies are counting on their customers to get overwhelmed or confused by insurance claims, and dutifully accept rejected claims. An insurance claim attorney can help you dispute the claim, file a lawsuit against your insurance carrier, and get what is your due. While disputing denied or underpaid claims is the first step, being able to confidently engage with the insurance company is important as well. A lawyer will walk you through the entire process and have the knowledge to definitively determine if a carrier is being untoward or unfair.
3. You're Filing For Bankruptcy
Filing for bankruptcy is not a straightforward process. Enlisting the help of a bankruptcy attorney can help. Here are just a few things a lawyer can do for you.
Help you weigh the pros and cons of filing for bankruptcy and help you determine if it is truly the right decision for you.
Explain the ins and outs of national and New York State laws.
Assist in compiling relevant documentation and completing paperwork.
Lay out what to expect in the aftermath of filing for bankruptcy, i.e., whether tax penalties apply, when to continue paying creditors (if at all), and what property you will be able to hold onto after filing.
Of course, filing for Chapter 7 bankruptcy requires less litigation than filing for Chapter 13 bankruptcy. Chapter 7 generally involves liquidation and mostly or entirely forgiving debts; Chapter 13 entails reorganizing debts and coming up with a more gradual or forgiving way to pay them off. Because Chapter 13 requires a repayment plan, it is wise to work with an experienced professional to draft that plan. Working with a lawyer may help you retain as much property as possible and pay any remaining debts off as painlessly as possible. When filing for bankruptcy, team up with a lawyer to regain a sense of normality as soon as you can.
Whether you are filing for Chapter 7 or Chapter 13 bankruptcy, all documentation must be submitted to courts under penalty of perjury. If you are not wholly confident in the accuracy of your paperwork, hire a lawyer to avoid accidentally perjuring yourself.
4. Your House Is Being Foreclosed
When you are going through the difficult time of having your home foreclosed, it is important to fully understand what banks can and cannot legally do.
A foreclosure attorney serves the critical role of helping you understand your rights during this time. For example, New York State law requires a formal, written notice of default. Following that notice, residents must be given adequate notice to vacate their homes, typically 30 to 120 days. In New York, the entire process from the arrival of this notice to the eventual sale of your foreclosed home takes an average of 445 days.
Foreclosure raises a lot of questions. Is it possible to keep my home? Do foreclosures eliminate all mortgage-related debts? The answers are not always straightforward and having a lawyer at your disposal can help. That said, it is possible to keep your home as long as you are able to pay off any fees or mortgage payments prior to receiving an official written notice of foreclosure. Of course, that is not always possible. If you are unable to pay, a foreclosure will typically eliminate all — or most of — your debts. There are some circumstances when a house may sell for less than the debt you owe. In that case, you may have to continue making payments unless you have some other protections in place, like private mortgage insurance (PMI). If you have any questions or if there are any legal uncertainties on your end, it is wise to work with a lawyer.
5. You Are Injured At Work
What protections does New York State law offer if you are hurt on the job?
As with other areas of law, workers' compensation laws can be tricky. To help navigate the convoluted nature of workers comp laws, it is best to hire an attorney. An attorney will ascertain that you get appropriate compensation for medical bills and related expenses as well as any applicable job protection.
By working with an attorney, it is possible to get adequate compensation. Your employer may try to cut corners and save on costs by paying for a common injury, like a slip and fall, but not paying all your expenses. A lawyer can help you get compensation to cover medical bills as well as any missed wages from any time your doctor requires you to take off work. It is also possible for an employer to (legally) deny a claim, or take actions to retaliate should you file one. While only the first is technically legal, having a lawyer by your side can help ensure that these worst-case scenarios do not happen.
6. You Sustain Injuries From Products or Services
We have all heard of the world-famous McDonald's coffee cup case. To quickly recap, Stella Liebeck won nearly $3 million in damages after hot coffee from McDonald's spilled out onto her lap.
In spite of her winnings, the case has come under quite a bit of scrutiny. After all, naysayers ask, shouldn't coffee be hot?
This is a perfect example of a simple truth: defective product cases are not clearcut. You may be entitled to compensation — and a significant amount of compensation at that — without even knowing it. That is why it is important to consult with a product liability attorney if you have any doubts.
New York State laws dictate that product liability or defective products fall under civil lawsuits. Clients may have a product liability claim if they can prove that the product is dangerously defective and either 1. caused harm or 2. packed definitive and proven potential to cause consumers harm. Over-the-counter or prescription drugs, cribs and car seats, and crockpots and steam cookers can all present potential product liability cases, should they malfunction.
There are three main types of product liability cases recognized by New York State law. These include defective manufacturing, defective designs, and inadequate or missing warning labels or safety information. The McDonald's case famously fits the description for a missing warning label or safety information case.
7. You Get In A Car Accident
If you are injured in a car crash, the last thing you want to worry about is New York State law. Unfortunately, that is a reality that many drivers face. Car insurance claims can be complicated, especially when they must consider drivers' and/or passengers' medical expenses.
Immediately following an accident, reaching out to an accident lawyer may be one of the most important calls you make. Of course, call the police or 911 first. After calling the police, it is wise to consult with a lawyer. "Automobile accidents can be caused by a variety of factors, including driver negligence, defective vehicle components, poorly maintained roads, or badly installed parts," FindLaw reveals. Be sure not to incriminate yourself by offering up any unnecessary details. Be polite and cooperate with the officer on the scene. When it comes to the specifics of why and how the accident occurred, it is often best to review this information with a lawyer first. Make note of the owner of the other vehicle, any passengers in your car, road and weather conditions, and anyone who may have witnessed the accident. A lawyer will use this information to help you negotiate with your insurance carrier for a fair settlement.
It is especially wise to seek legal counsel in the event of a trucking accident. Few drivers leave trucking accidents unscathed. Trucks are not designed for evasive maneuvers. In fact, trucks weigh 20 to 30 times more than the average passenger vehicle and may take 20 to 40% more time to come to a complete stop. That means truck drivers need to be at their best. Drivers have the potential for recourse if they can prove any negligence on behalf of the trucking company or trucker. Truckers are legally mandated to take breaks and work set hours. An accident attorney can help you fully investigate the moments leading up to a collision and determine if any extenuating circumstances may be to blame.
8. There Is An Unexpected Death In the Family
Finally, do not be afraid to solicit legal help in the event of a loved one's untimely or tragic death. A wrongful death attorney can help you navigate New York State law and determine whether you have a case. Consult a wrongful death attorney regarding medical malpractice, fatal car accidents, or dangerous pharmaceutical drugs.
It can be unrealistic to consider the practicalities after losing a loved one. A lawyer can work on your behalf to make certain you are compensated for funeral costs, medical bills, lost wages, and pain and suffering.
Do you need to talk to a lawyer? If you are experiencing any of the difficult situations above, take the time to consult with a lawyer about his or her services.
Team up with a lawyer to get insight into some of the most complicated laws and legal verbiage. Get more compensation — without all the stress.