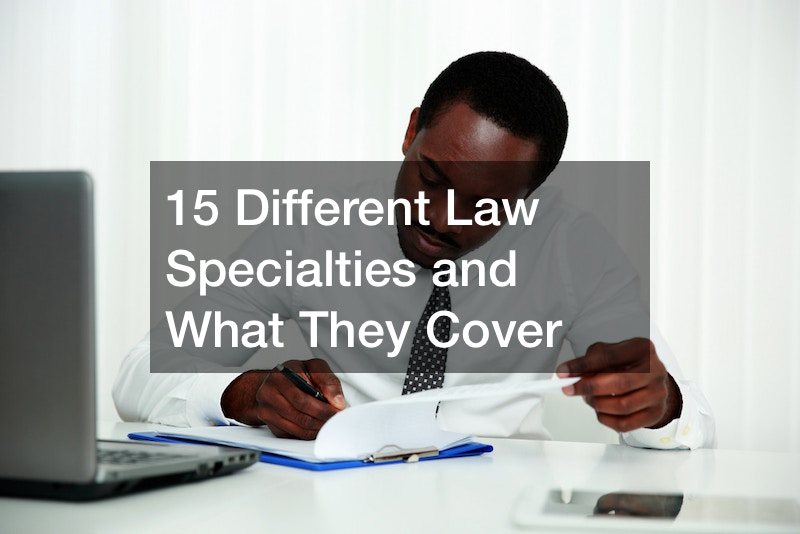 15 Different Law Specialties and What They Cover
15 Different Law Specialties and What They Cover
Disclaimer: The website may collect compensation for links, mentions and/or videos that are placed in the content.
Disclosure: All content is intended for general information purposes only. We are not professionals in any specialized field. Please consult an expert before making any decisions involving your health, finances, or general well being.
The field of law offers unending specialties for those who enter it as a field of work. For those who need to hire an attorney, that diversity within the field can create confusion. Although lawyers all study the same core courses of law, they practice within a specialty, which develops its case law on a rolling basis since any court case can change precedent.
When hiring an attorney, consider the specific need. Start by determining the overall field in which the legal need falls. For example, a neighbor's tree that hangs over your fence and drops branches and leaves into your swimming pool relates to both of your properties, so look for a lawyer who specializes in property law. Let's consider some of the major sub-fields of law.
1. Real Estate
Lawyers who specialize in real estate handle items like contracts for building and buying homes, apartment complexes, and office buildings. That means the house closing lawyer needed for the purchase of a cute beach house or lake house specializes in real estate. This type of lawyer handles other real estate-related items, such as working with estate planning lawyers to pass real estate from one generation to the next. Choosing real estate attorneys comes down to who accumulated lots of experience in the sub-field and with whom you work well. This law specialty doesn't often litigate, so they won't need trial experience. Check the local bar association for a list of individuals who practice in this area.
2. Bankruptcy
Whether an individual needs to file Chapter 7 or Chapter 13 bankruptcy, they would consult a bankruptcy attorney. Some of these lawyers specialize in either personal or business bankruptcy. The chapters of the law referring to business filings differ from those referring to personal filings. Attorneys choosing this field of practice also offer consultations on whether bankruptcy is the right choice for a person or business. The individual or business may need to try other means of debt reduction first, and the lawyer explains this and helps guide them through the process.
3. Personal Injury
The sub-field of personal injury law offers a plethora of specialties. Personal injury refers to any type of physical injury to a person from dog bites to truck accidents. It also includes injury from environmental exposures, workplace accidents, and trip and fall incidents.
Typically, a car crash attorney works at the same legal firm as an environmental exposures attorney. While the legal firms list a specialty of personal injury, each partner or attorney at the firm specializes in personal injury. Here's a list of common specialties within the sub-field of personal injury law:
Trucking accidents
(involving semi trucks and other large trucks)
Dog bites and other animal attacks
Pedestrian accidents
Bicycle accidents
Motorcycle accidents
Boat accidents
Airplane accidents
Environmental exposures
Workplace accidents
Physical altercations
Because each accident type within the sub-field of personal injury law develops its case law, most lawyers only specialize in one or two areas, but the firm at which they work may offer attorneys in every specialty.
4. Criminal
Anytime a person gets charged with a serious crime, it requires criminal defense lawyers. Some serious crimes include misdemeanors that the state can prosecute as a felony if it chooses, such as some states in the U.S. treat DUI and DWI. Serious crime doesn't refer only to felony charges, therefore.
When charged with a crime, an individual attends a bond hearing at which a judge decides whether to allow them temporary freedom on their personal recognizance or to require them to pay a bond to guarantee their return to court for the next trial part. When the court requires a bond, rather than paying the court directly, the individual pays a bondsman.
The court does not designate which of a city's many bail bond services the individual or their family must use. Typically, the person's representative must visit the bond office in person to fill out paperwork and provide cash or collateral, such as proof of ownership of a high-value item, such as an automobile or home. The bond office may take a payment consisting partially of cash and a collateral option.
The criminal defense attorney may assist the individual or their representative in making bail, another term for paying bond. Other tasks of the criminal attorney include researching relevant cases, preparing court arguments, developing an alternative narrative for the crime with other possible perpetrators named, and representing the accused in court and chambers. To develop their alternative narrative of the crime, the criminal defense attorney may hire private investigators, forensic experts, and expert witnesses. For each crime, there exists a specialty within the law, so a defense attorney who specializes in capital cases, where the death penalty numbers among the punishments, handles different cases than a DUI attorney or petty crimes lawyer.
5. Family
Just as massive as criminal law, the field of family law covers a cornucopia of sub-specialties. Although family law firms exist, each lawyer within the firm practices a different specialty. Divorce attorneys practice in the sub-field of family law, and so do adoption attorneys. Family law also includes child advocacy attorneys, child custody lawyers, and those with legal expertise in the area of lifetime care for special needs children.
The diverse area of family law covers topics such as naming a guardian for minor children or special needs adults, establishing a conservatorship for individuals unable to care for themselves, and filing for a temporary or forced commitment to a mental health or drug rehabilitation facility. An attorney specializing in matters of family law may assist an estate attorney in the writing of an individual's last will and testament, plus any codicils to the agreement. Due to this wide range of specialties, in many families, the family law attorney becomes like part of the family because they play a huge part in every major decision the family makes.
6. Corporate
Families who own a family business also get to know their corporate attorney very well. Individuals who practice corporate law include those who write contracts, file paperwork to establish a business, mergers and acquisitions attorneys, and patent lawyers. For every aspect of running a business, a corporate legal specialty exists.
If offering a business for sale, a corporate lawyer represents the seller, and a different corporate lawyer represents the buyer. The area of employee law falls within corporate law, as do contracts. If an individual, such as the CEO of a business, gets accused of libel, the corporate attorney typically works with a libel lawyer on the case.
7. Environmental
In recent years, the area of environmental law vaulted to fame bolstered by new rules from the Environmental Protection Agency (EPA), headlines generated when now Presidential candidate, then university professor Robert F. Kennedy Jr. sued the EPA for failure to promulgate regulations and the author John Grisham featured the field in "The Pelican Brief." These far-reaching marquee moments are the unglamorous field of environmental law, which ranges from suing companies for illegal dumping to writing corporate compliance briefs and completing legal paperwork for the government. An environmental attorney also works with companies to develop procedures for disposing properly of environmental waste.
Not all environmental attorneys work for companies. The EPA and each state's environmental department employ these attorneys. In these positions, the environmental lawyer works to develop environmental rules and regulations and amend existing laws. Some of these lawyers also travel the country to visit various Superfund sites and to visit locations under consideration for designation as Superfund sites.
8. Sports
A person who plays high school and college sports with an interest in law might specialize in the area of sports law, helping college and professional athletes with contracts and contractual negotiations. Many college athletes now hire attorneys to represent them in their Name, Image, and Likeness (NIL) negotiations. This law specialty works mostly with contracts and negotiations, but the area of application differs.
9. Entertainment
The area of entertainment law combines wheeling and dealing in entertainment with the legal profession. Someone with a background in theater might specialize in the area of entertainment law, which also mostly deals with contracts and negotiating representation deals for an actor or actress. This area also works with obtaining the legal right to use a piece of entertainment in another piece of entertainment, such as a musical artist who wants to sample a long riff from a song or an artist who wants to cover an existing song written by or performed by another artist. For example, when Whitney Houston covered the Dolly Parton song "I Will Always Love You," an entertainment lawyer handled obtaining the legal rights for recording and releasing the song.
10. Immigration
Lawyers specializing in immigration assist individuals and families in earning citizenship in the U.S. This specialty works to help people acquire visas, work permits, and other legal permissions, while they visit the country or attend school here. An immigration attorney works mostly with compliance issues, such as applications for visas and citizenship. They also represent the individuals in administrative court.
Most immigration attorneys go into private practice. Some work for non-profits, while others become employees of the federal or state governments. Not all immigration lawyers help people remain in the U.S. Those employed by the Immigration and Naturalization Service (INS) process paperwork and go to court, representing the state in deportation hearings when illegal immigrants get caught.
11. Intellectual Property
Intellectual property lawyers complete and process paperwork for copyright, trademarks, and distribution of a client's work intellectual capital, a term referring to their ideas, patents, inventions, innovations, etc. These lawyers also litigate violations of the protections afforded their clients' ideas, trademarks, and copyrights. Other tasks of this type of lawyer include securing licensing to legally use someone else's idea or invention, advising clients on new regulations, and consulting on the best approach to protect or license a product.
12. Medical Malpractice
Within the area of personal injury law lies a specialty in medical malpractice. This often represents the only specialty that the lawyer practices. Medical malpractice lawyers represent individuals or their families who incurred an injury when a medical professional made an error or acted with negligence. Examples of these causes of injury include administering the wrong medication, misdiagnosing an illness or condition, and making a mistake during surgery The lawyer handles the paperwork of filing a lawsuit within the state's statute of limitations and litigating the matter in court. Some medical malpractice lawyers work for hospitals or medical facilities to defend medical personnel accused of malpractice.
13. Disability
An attorney specializing in disability law spends much of their time helping individuals file the paperwork to earn a declaration of disability and obtain benefits from the Social Security disability system. These benefits include a monthly stipend intended for payment of housing, food, and other needs. This type of lawyer also handles appealing a denial of benefits, and benefits termination cases and helps individuals respond to benefits reductions. Although less common, a disability lawyer would represent an individual or their families in suing an institution of learning or employment for failure to accommodate a disability under the requirements of the federal Americans with Disabilities Act (ADA) law.
14. Military Lawyer
The television show JAG depicts a real-life legal specialty in a fictional format. Individuals in the military who enter the field of law earn the title Judge Advocate General (JAG). A JAG represents military personnel in international, criminal, and civil matters, like a civilian general practice attorney. These lawyers handle contracts, applications, and litigation and continually update military handbooks on case law and procedures.
15. General Practice
Only in small towns do lawyers typically practice general law, meaning one lawyer handles all types of cases. In most areas, lawyers and the firms that employ them specialize. That means that during their lifetime, one person might contract with five or more attorneys.
When in need of an attorney, choose the type that best suits your legal situation. For example, although a business attorney deals with contracts, negotiations, and mergers, if a business needed to declare bankruptcy, it would need to hire a bankruptcy lawyer. In law, specialty matters, so hire a lawyer who practices in the area you need to address.