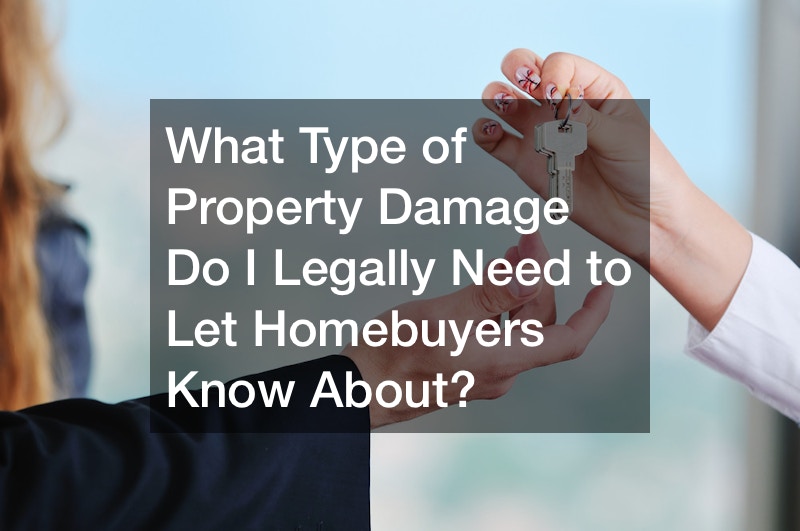 What Type of Property Damage Do I Legally Need to Let Homebuyers Know About?
What Type of Property Damage Do I Legally Need to Let Homebuyers Know About?
Disclaimer: The website may collect compensation for links, mentions and/or videos that are placed in the content.
Disclosure: All content is intended for general information purposes only. We are not professionals in any specialized field. Please consult an expert before making any decisions involving your health, finances, or general well being.
As a real estate agent in New York State or a home seller in the region, you might wonder what type of property damage you're required to inform prospective homebuyers about by law. If you're trying to sell a home with water damage, for example, you might wonder if that's necessary information to share. You may also wonder if problems with electrical wiring require disclosure according to the laws in New York. While the law varies on this subject from state to state, NY state law is pretty clear about what they expect home sellers and real estate professionals to share with prospective home buyers.
If you fail to share certain types of property damage with a prospective home buyer, you could be held accountable by the law. You could also face fines or get into a sticky situation where the home sale is not valid. To avoid these kinds of legal messes and financial drains, it's best to do your research. Before you even put a home on the market for sale, you should figure out what property damage requires disclosure from real estate agents and home sellers to home buyers.
Prospective home buyers need to know that they can trust the person selling the house. Part of building trust and rapport with home buyers is showing them the damage that may present a problem for them if they buy the house. At best, failing to discuss problems with a property with potential homebuyers can ruin your reputation as a real estate agent or home seller.
At worst, it can bring up legal problems that can cost a lot of time, money, and resources to handle. When you share potential issues or current problems in the home with a prospective homeowner, you go a long way in letting them know that it's safe for them to move forward with the purchase. It also allows future homeowners to make an informed decision about whether this home is right for them.
While it can impact the offers that you receive for the home, it's better to make less from the house sale than you anticipated than end up making more money from the house sale while siphoning a lot of those funds into legal fees down the line. If you wouldn't want to buy a house with a bunch of unexpected issues, you can imagine how other future homeowners would feel if they noticed unpleasant surprise damage during their inspection of the place. When you know that you want to make as much money as possible from a house sale, you should invest in fixing damage in the place before putting it on the market. While this can cut into your earnings and your current resources, it's a worthwhile investment in your future.
If you try to tell homeowners there's nothing wrong with a house, they'll almost certainly worry that it's too good to be true. Any house that has been lived in for some time will show normal signs of wear and tear. Although no house is perfect, some houses may have issues that make them a harder sell. Even though it can be tempting to minimize the extent of damage or sweep some kinds of damage under the rug, the law requires transparency and honest advertisement practices. False advertisement is not only mean but also potentially illegal in the housing market. To avoid getting into legal trouble over failing to disclose problems in a house, you should share these types of property damage with the potential new owners of your home in New York.
Flooding
If you live in a flood plane or an area prone to flooding in general in NY, investing in a waterproofing service can make a huge difference in the resale opportunities with your home. If you're putting your house on the market, you'll want to make sure that you resolve any issues with leaks from flooding and attend to any waterproofing needs. If you have flood damage on the outside of your home or inside the structure, you should take care of that before putting a home on the market, as well. If you're selling the home as it is, you should show prospective buyers where the flooding happened and how it impacted the house. Since flooding can compromise the safety of a home, you should make sure the house can pass an inspection before attempting to sell it.
Without doing your due diligence around flooding damage and related concerns, you may delay the sale of the house. What's more, you could lose out on potential buyers who were interested in the home if you aren't upfront about the damage and proactive in resolving the issue. Flooding can cause serious damage if left untreated. Water damage especially can present an issue because it's not always considered a qualifying disaster under home insurance policies. To protect yourself legally as the seller of the home, you should be transparent about flooding concerns with prospective buyers.
Roof Damage
On a house or other type of building, the roof is one of the most important parts of the home. It protects the house and the contents inside the structure from the harsh elements outside. If it rains, snows, floods, or even is too sunny outside, a roof should shelter those inside from the weather conditions.
If the roof leaks, you run the risk of the home becoming riddled with mold, mildew, pests, and more. When you notice a problem with your roof in the process of preparing the home to hit the housing market, you should call your local roofer or local roofing company right away. While a crack in the roof or a few missing shingles might not seem like a big deal, it can create a larger issue if it's left unattended.
Roofers should be able to assess the severity of the damage and fix an issue within a couple of days. If it's been several decades since you last replaced the roof, you might also want to consider replacing the entire roof. While this can seem like a daunting task, it's necessary to replace a roof that's become worn out and ineffective with age. Roofs last a long time. Some roofs last up to 25 years. Still, after a few decades, if a hurricane or another natural disaster affected the roof, replacing it or at least repairing the damage is necessary.
Maintaining the roof is not only necessary for homeowners but also for home sellers. If you're planning on selling your house, you will need to disclose any problems with the roof to a potential buyer. They might not be interested in the home anymore if they believe that they'll need to invest a lot of time and money into fixing the roof. Since roof replacement can be a fairly easy fix, it's worth getting in touch with a local roofing company and fixing the issue before the house hits the market if you can. That way, you can present the best version of your home for the highest value.
Air Vent Damage
When it comes to the air vents in a home, they're a vital part of keeping the house running smoothly and safely. From pushing cold air for relief in the summer to maintaining a cozy temperature inside in the winter, your HVAC system does a lot of good for you and your household. If you notice that the air conditioner doesn't seem to be running reliably or that the air filter may need to be changed, it could be time to call an air conditioning service or HVAC contractor.
These professionals will be able to assess whether there are some ways to optimize the HVAC system. They also can let you know if they see any damage to the air vents that would require disclosure to a potential home buyer. If you see glaring damage to the air vents, you should call an HVAC service right away. Once your home is on the market, you should plan to keep potential buyers in the loop about air vent damage and repairs. By informing buyers about air vent issues, you're satisfying the legal requirements that NY law places on homeowners who want to sell their homes with air vent damage.
Plumbing Issues
From overflowing toilets to leaky pipes to dripping faucets, potential home buyers in New York State need to know about the plumbing issues in a property if they're intent on buying the home. While it might not be fun to discuss plumbing issues with prospective future homeowners, it's a necessary task that the law requires of home sellers and real estate professionals. If you want to avoid this awkward conversation, you can call in a plumbing contractor who specializes in local plumbing repairs before you start showing your home.
Until the problem has been resolved to the satisfaction of inspectors and plumbing professionals, you should still make prospective home buyers aware of the issue. Still, when you're on top of plumbing issues, you'll be able to keep the problem from ballooning into something worse. You'll also show prospective homeowners that you care about the maintenance of the home. This can make them more likely to trust that this house is the one for them and that you're a trustworthy seller.
Water Heater Damage
From failing water heaters to damage to the areas surrounding a water heater, water heater damage is another type of damage that NY law wants you to disclose as a home seller to a potential buyer. Even if you have a tankless water heater, there are still plenty of ways in which the water heater can go awry. To avoid these issues, calling up a qualified water heater installer to install a new water heater when your water heater goes bad is the best plan of action.
If you let your water heater run while it had issues, you might feel the effects of putting it off. While life can get busy, it's always a good idea to prioritize maintaining every aspect of your home. A water heater seems like a small and insignificant part of the house until it stops working. When the water heater is damaged, it can make it hard to take showers, wash dishes, and perform other essential tasks of daily living.
If your water heater is making odd noises or you notice that it's not replenishing hot water at the same rate that it used to, you may want to call in a water heater installer to check it out. At best, they may be able to do some minor tweaks that improve the functioning of your water heater. At worst, there may be some permanent damage surrounding the water heater that you'll need to share with anyone interested in buying the house.
Electrical Wiring Issues
Because they present a fire hazard, electrical wiring issues should be taken seriously. If you notice that your electrical wiring seems off, bringing a local residential electrician into your home is the next best step to take. As long as the issue continues, you'll want to make prospective home buyers aware of the problem. This is not only the courteous thing to do, but the legally required action you must take. Even if the electrical wiring issues seem insignificant to you, they can present major problems. The last thing you want to do as a home seller is potentially cause a fire for future homeowners by failing to address or note electrical issues.
According to New York State law, you need to share certain types of property damage with prospective owners. While this can ward off some potential buyers, the right buyers for your home won't be deterred by the issues it may have. No home is perfect and most home buyers understand that. If you're honest about home issues, potential buyers may be willing to accept the house in its current condition. By making major repairs before you put the home on the market, you give your house the best chance of selling above the asking price. As long as you keep open communication about issues with potential buyers, they'll appreciate your honesty and make the best choices for their families.